History of Galigamuwa Divisional Secretariat
Galigamuwa Divisional Secretariat was named as "Beligal Korale Income Office" up to 1971. Two sub divisions were appeared on June 01, 1971 as Warakapola Income Office (west) & Galigamuwa Income Office (east) which was containing 20 parishes. Galigamuwa Income Office was renamed as "Sub Government Agent Office" in late 1978 & as "Galigamuwa Divisional Secretariat Office" since 1992. Today, number of parishes is expanded to 51 in number and Grama Niladari is the in charge of a parish.
Divisional Income, Divisional sub Government Agent & Divisional Secretariat offices were established as follows
1. Nelundeniya (Beligal Korale, east/west).
2. Close to Galigamuwa Primary School.
3. Kobbewala junction, Ballapana.
4. Mayfield State, Ballapana.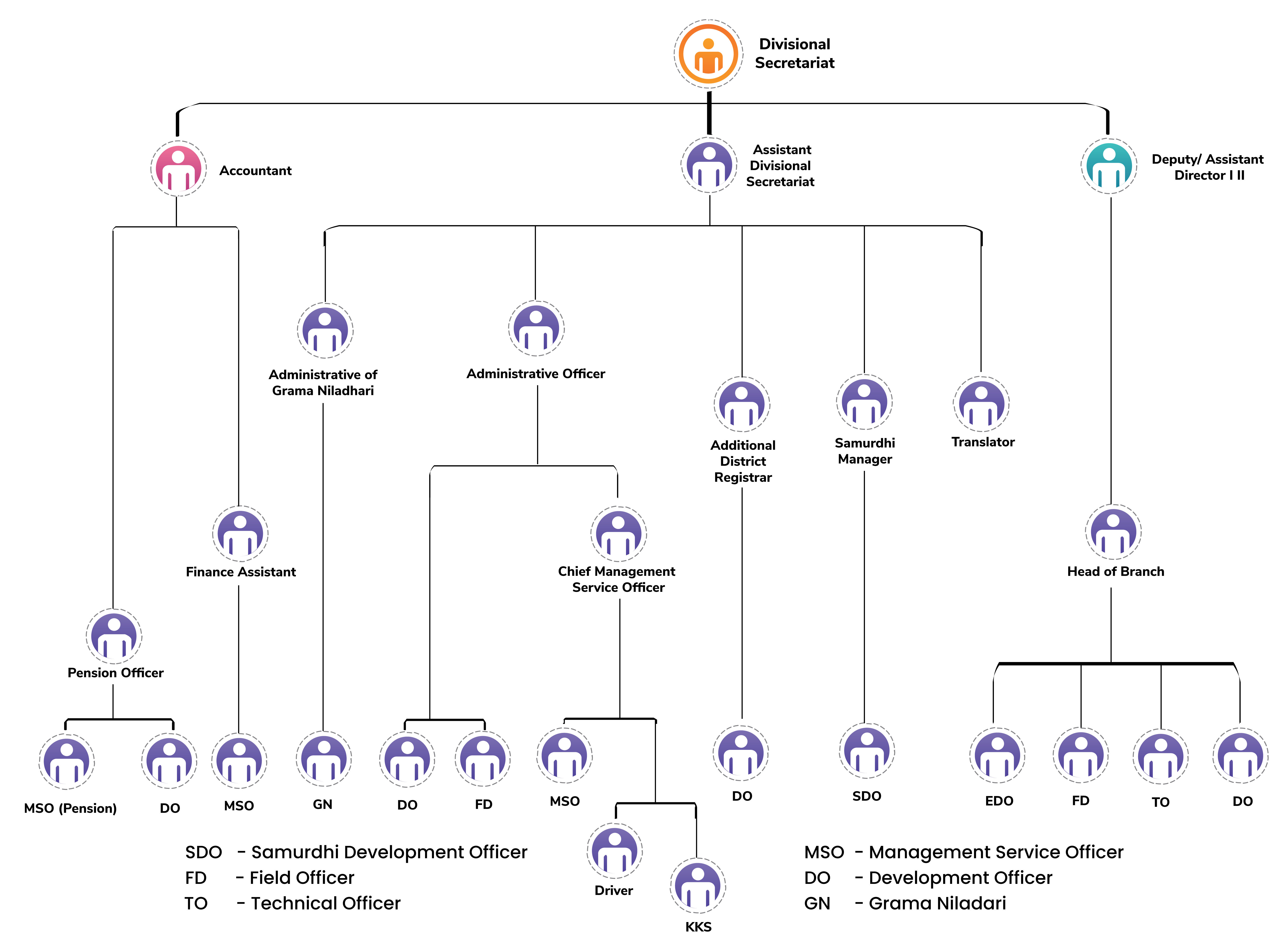 Location Based Information
Galigamuwa Divisional Secretariat Division belongs to Sabaragamuwa Provincial Council & is one of the province's eleven Secretariat Divisions. It contains three sub divisions namely, Gam Dolaha Kandupita, Uthura & Dakuna & is further divided to 51 parishes.
It is surrounded by Ma Oya river from north, Rambukkana & Kegalle Divisional Secretariat divisions form east, Warakapola Divisional Secretariat division from west & Bulathkohupitiya & Yatiyanthota Divisional Secretariat divisions from south. The land extent is 12,718Ha & though the main topographical slope in the land is towards west, two other slopes towards north & south in the central area give rise to a proper drainage pattern. Hapudeniya is the highest parish in the division having 1200ft from sea level & lowest is Helamada which is 90ft.
Galigamuwa is coming under wet zone having 105in annual average rainfall & the temperature remains between 72-80oF. Kegalu Oya, a branch of Ma Oya river flows towards north & Gurugoda Oya, a branch of Kelani river is to south supplies water for irrigation. Agriculture is the main economic sector in the area.